"[The wise man] listened to the story, paused, thought, then said, 'Nothing significant in the kingdom of God happens unless death occurs.' I have tasted that death." ~Mary DeMuth, Everything~
It's been my privilege to be a small part of the launch team for Mary DeMuth's latest book, Everything: What You Give and What You Gain to Become Like Jesus. Reading Everything was a challenging, strengthening, hope-giving experience. I recommend it to you as a book you will want to keep on your shelves, read often, and share with others. But enough from me. Soak in Mary's words and see for yourself . . .
from Everything by Mary DeMuth:
"If I were to ask you when you acted the most like Jesus, my hunch is that you wouldn't say, 'When all was perfect, when life felt controlled and manageable.' No, you and I would sit across from each other in a coffee shop and tell harrowing stories of danger, stress, worry, loss, and disappointment. I'd tell my ministry story, and you'd share your story full of conflict and villains and devastation. We'd both agree that we grew in those circumstances like Virginia creeper after a rainstorm, though we couldn't see it at the time.

Recently I asked this question on my Facebook page: 'When has God seemed closest to you?' What surprised me was that folks overwhelmingly cited trials. Here's a sampling:

During labor when my preemie daughter was born.
During the illness and death of my mother and sister.
When I found out I was adopted.
Waiting to see if my dad survived a horrific motorcycle accident.
When I had a heart attack at thirty-eight years old.
During my separation.
Since the suicide of my spouse.
When I was hospitalized for mental illness at age sixteen.

Ironic, isn't it? God's nearness and the growth that happens in His light come from the very things we desire to flee.

*We grow when the walls press in.

*We grow when life steals our control.

*We grow in the darkness.

When we vow to protect ourselves, we rob God of His job. He created our hearts, our lives, our wants, our hopes. He is best capable to fulfill them. Often I've made a vow to protect my heart at any cost. Though I've tried to discard that vow, much of it lingers. I have a hard time risking in new relationships. I don't pursue like I should.

I hold back. I stay on the periphery of life, afraid of deep engagement. After being injured in relationships again and again, I no longer want to risk such heartache. I like safe people.

God calls us to shed the vow of protecting our hearts. He's asking us to trust Him with our lives, our relationships, our fears. We aren't to be in control of every single thing. To do so is to insult the Creator of the universe. When we try to manage our lives without Him, we become god at the helm.

Growth comes from God, to those with surrendered, yielded hearts. Living in our own strength cannot grow us in the long term. Nor should we want it to. We're all pretty tired, aren't we?

Tired of doing it all.
Tired of failing.
Tired of keeping people at a distance.
Tired of trying to achieve so others will notice.
Tired of people's opinions of us.

In that desperate fatigue and the consequent defeat that comes with it, Jesus waits for us, arms wide open, heart fully alive, ready to receive us to Himself. He beckons us to rest in His embrace, to be freed from our fears, and to lay our vows at His feet."
So now are you ready to grab a copy? Follow this link to purchase Everything or, at least, add it to your wish list!
Want to hear more from Mary DeMuth? You can connect with her at her website marydemuth.com, her Facebook page, and on Twitter.

What do you think? Can you relate? Care to share one of your growth stories? My comment form is always open to you, dear friends! And I promise to respond 🙂

Read what others are saying here . . .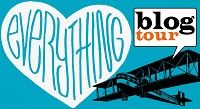 This week I'm linking up with Monday Musings, Hear It on Sunday, Soli Deo Gloria, The Better Mom, Teach Me Tuesdays, Gratituesdays, Titus 2 Tuesdays, Tuesday Tips, What I Learned This Week, Heart and Home, Domestically Divine Tuesday, Wholehearted Home Wednesdays, Beautiful Thursday, Thankful Thursdays, Hearts for Home Thursdays, Faith-filled Friday.